Reach Higher, America: Overcoming Crisis in the U.S. Workforce is the final report of the National Commission on Adult Literacy.
Click here to get the full report (77 pages, June 26, 2008). Color printing is recommended.
Click here to get the standalone Executive Summary.

A back pocket on the hard copy version of Reach Higher, America contains three two-page customized pullouts–for Business, Media, and Public Policy. Click pullout title of interest to get a copy.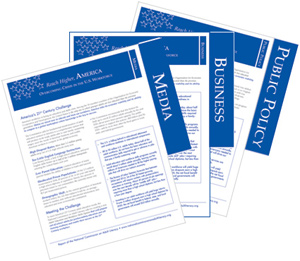 A hard copy version of the report, including pullouts, is available for $20 plus shipping. Contact [email protected] for instructions on ordering. Discounts are available for orders of 10 or more.
RELATED LINKS
MEDIA COVERAGE
DVD of Panel Presentation at Report Release Event, U.S. Capitol, Washington, D.C., June 26th, 2008